Discussion Starter
•
#1
•
Hey everyone. I just thought I'd get off my lazy ass and post some rather dreadful pics of what happened to my Civic after mother nature's bitch ass decided to "rain on my parade" (yes... pun intended). It also didn't help that whoever put of our awning was a complete ass jar and neglected to put in a center support. Needless to say, we got FUCKED over and got no kind of money out of all this madness. I even had to pay a $250 decuctible to get it fixed, not to mention I had to go like a month w/o my car! :mad Well it's fixed now, as you can see, and since it's tax season I decided to spruce things up a bit w/ some new rims (yeah, they're MR7's... and I LOVE them to death
). I've heard lots of people talk shit about Motegi's, but it's not about them... it's about
me
and
my car
and I wouldn't have it any other way
. Anyways, I'm waiting on my mugen front lip to come in next week sometime, and after a little bit of saving, I'm gonna do the suspension ('cause I
desperately
need it, esp. in the front!). And since I'm very new, I'd just like to say that this is a fucking great forum and I'm glad to be a part of it. Very helpful and informative to say the least. Ok... enough of my bullshit ramblings. Here are the pics (with more to come):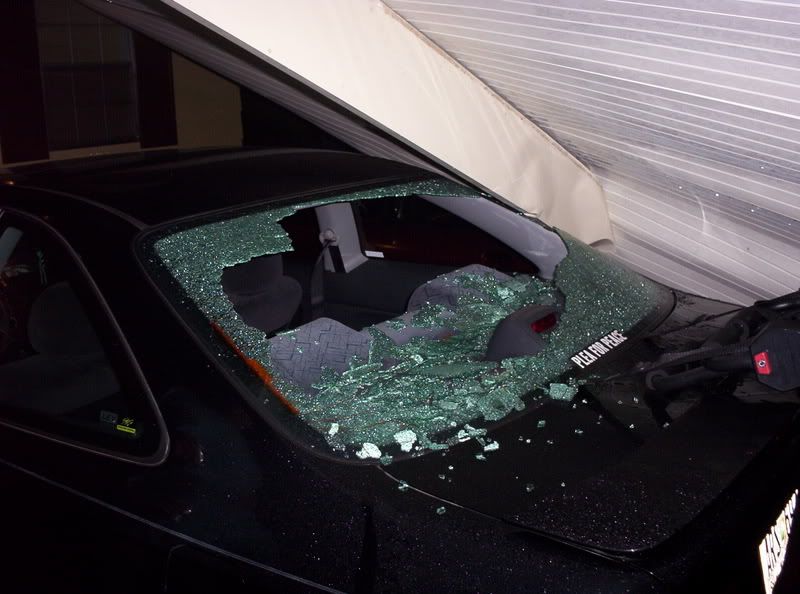 Ouch...
It was just inches away from annihilating my dad's RX7!...
luckily
my back window broke it's fall
$1500 of pure bullshit
Another $1500 of pure bullshit (and it had only been up a few years)
YEAH... nice and stock. Check out how high the front is :hehe
FYI: the sticker is a SOHC VTEC... not bragging about having VTEC, I just love the way it looks on Si's
Yeah, needs a little somethin here and there, but I'm not building a racecar so I'm not going to do much with the engine (for now anyway). It drives great as it is, so exterior mods... here I come!!!