Discussion Starter
·
#1
·
Finally some pics of the new sol! Whole storyline/build to go with it.
Well some of you may remember my old 95 milano red VTEC sol.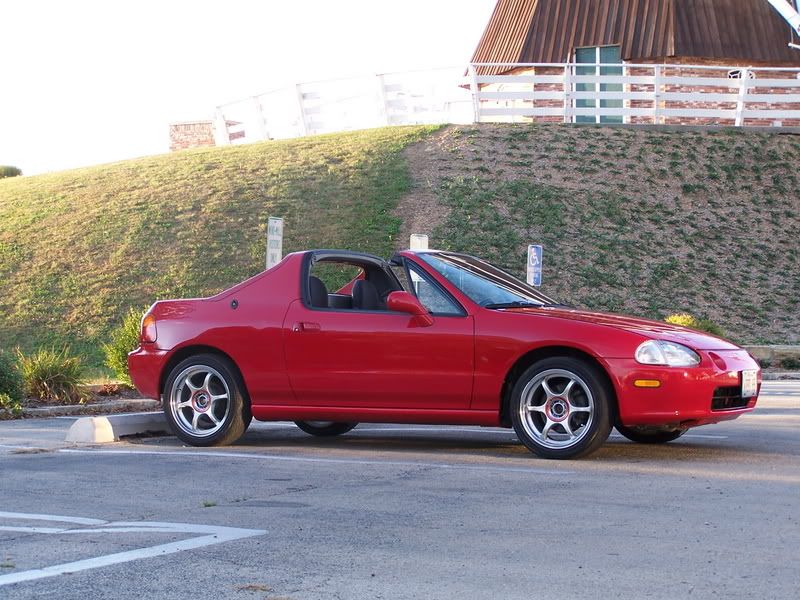 Well that turned into this...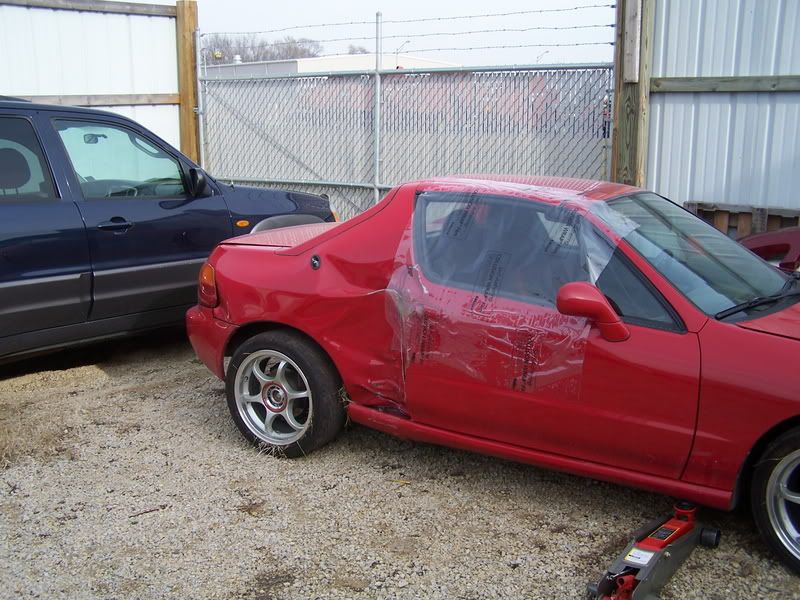 Totaled...sucked.
So then a few months of no driving and searching for a new sol and I came up with a shell from Virginia Beach.
It used to be Z_E_N's car. So we bought the shell and had it shipped here. This is how it looked when we got it.
So then both cars were moved to my garage where everything was to be done.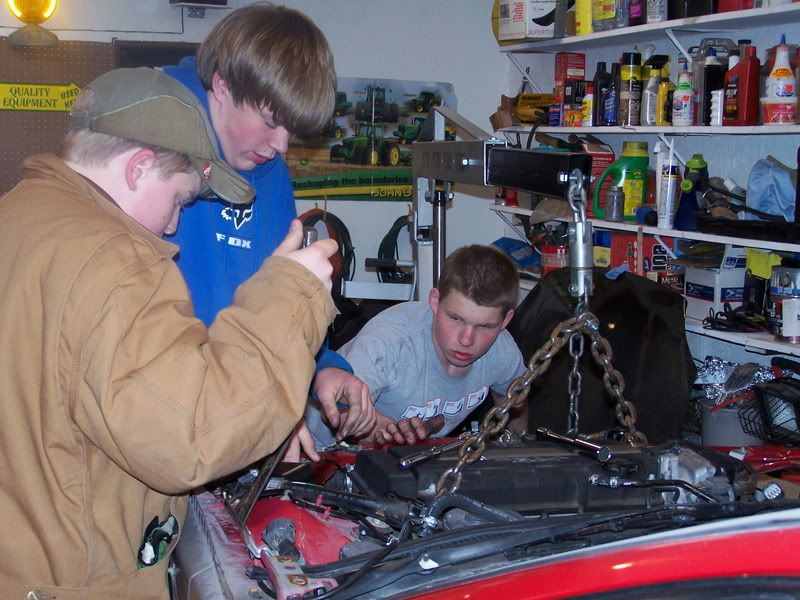 My brother, me, and a friend starting to pull the motor.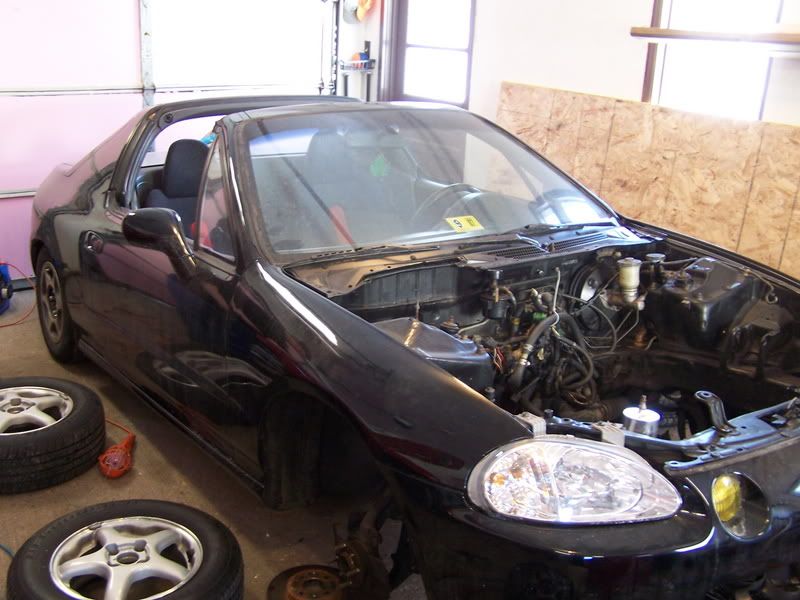 So heres basically everything I did.
-Full b16a3 swap.
-Swapped power steering into the car, which included swapping subframes to accommodate the larger rack diameter.
-Full VTEC brake install including swapping the rear drums to discs, as well as the brake booster and MC.
-ASR/22mmITR combo with blox lcas
-Swapping nearly every interior panel for those out of the old sol.
Adding a trunk release lever from the old sol.
Well that whole process took a few months, and keep in mind I had never done anything technical before in my life. Alls I can say is thank god for a chiltons, and if you can't figure something out ask...like I did many times on this site. Thanks to all the members who helped me during this build.
So on with the pics.
An old one with the stockers while waiting for my tires to come in.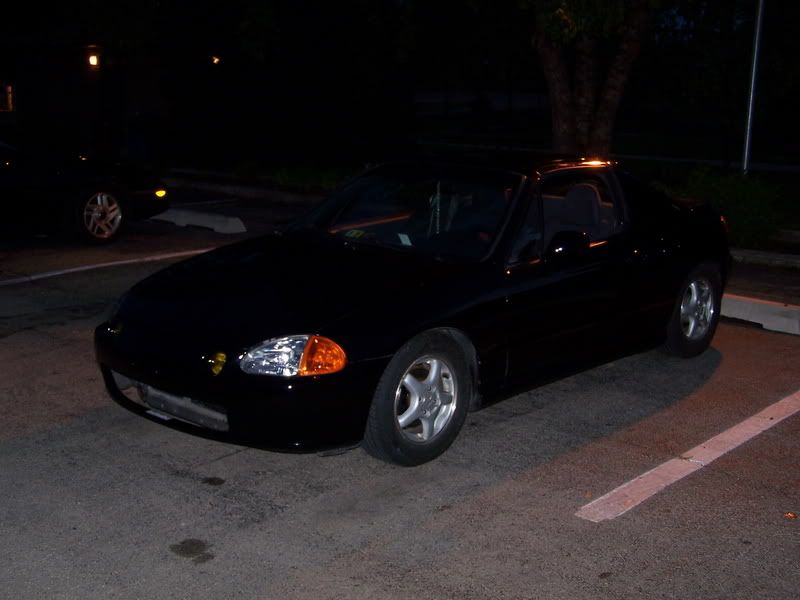 And some fresh ones.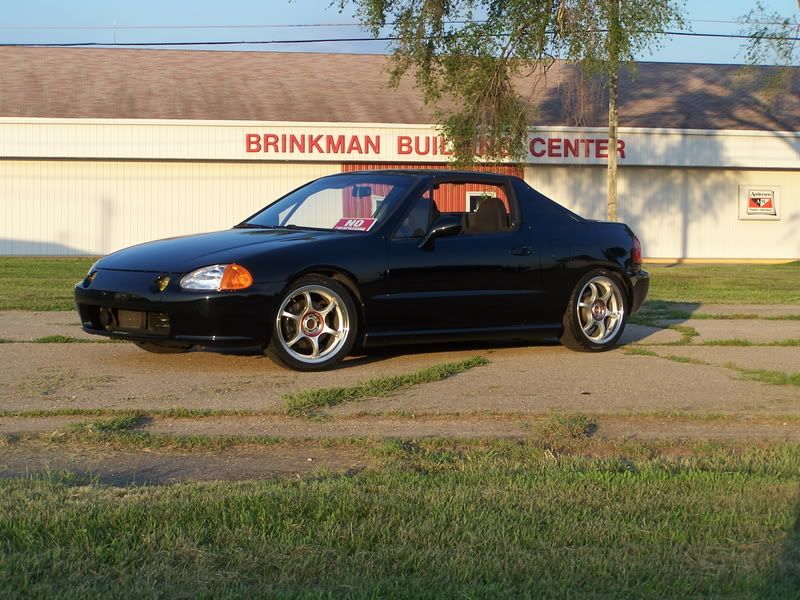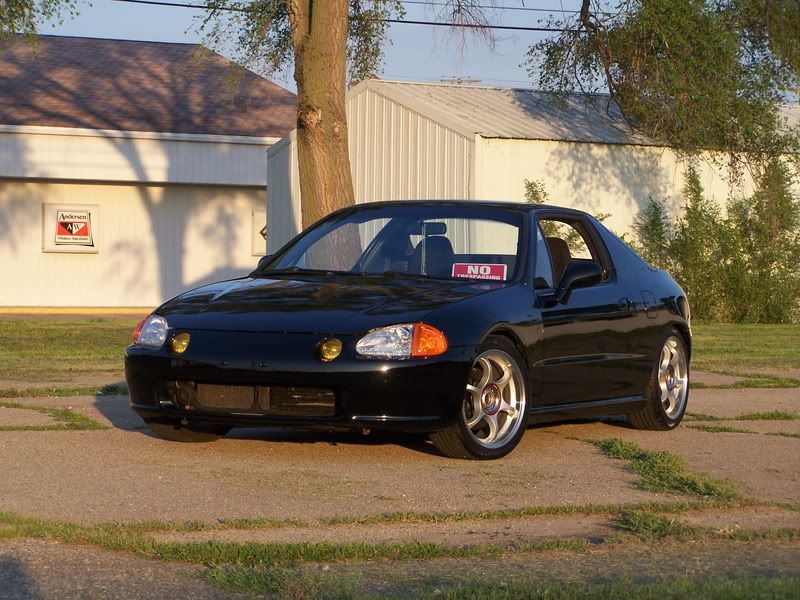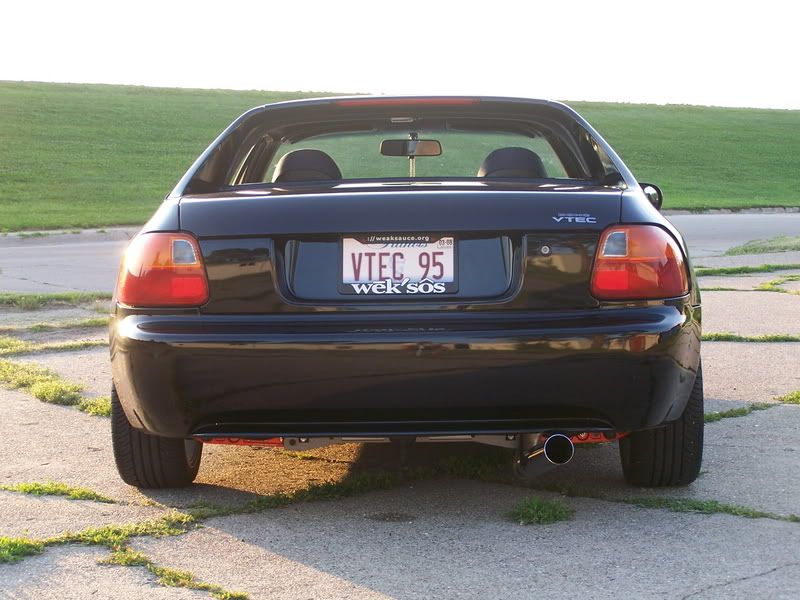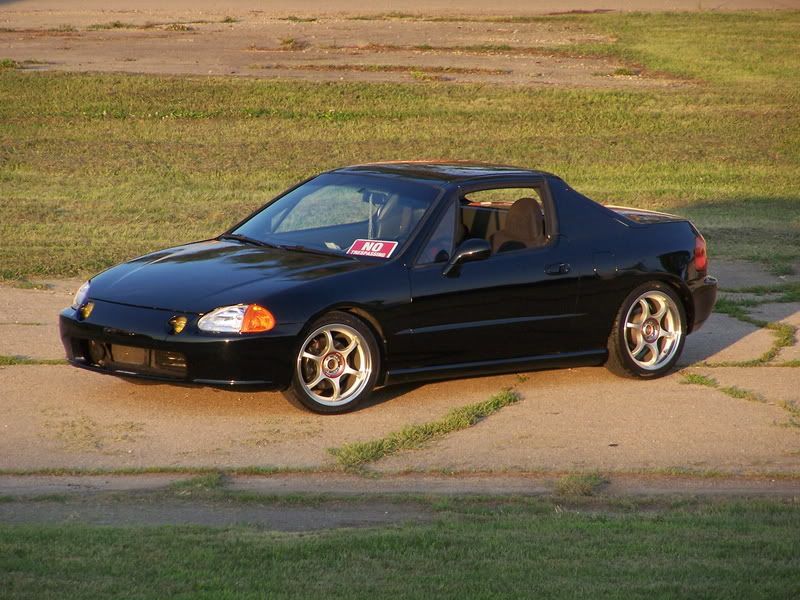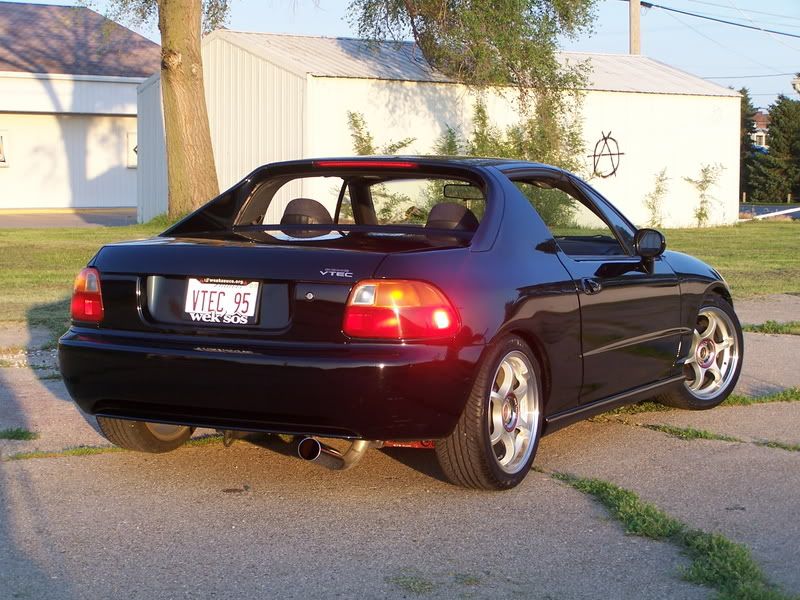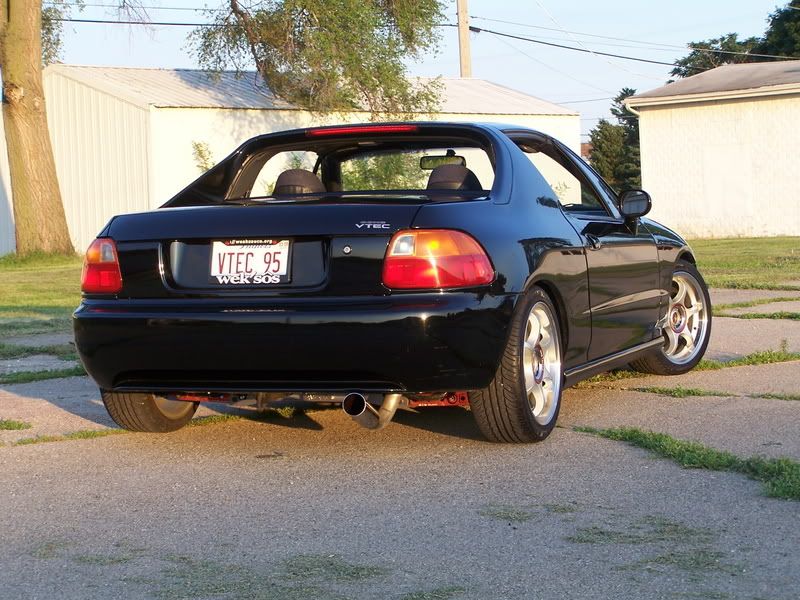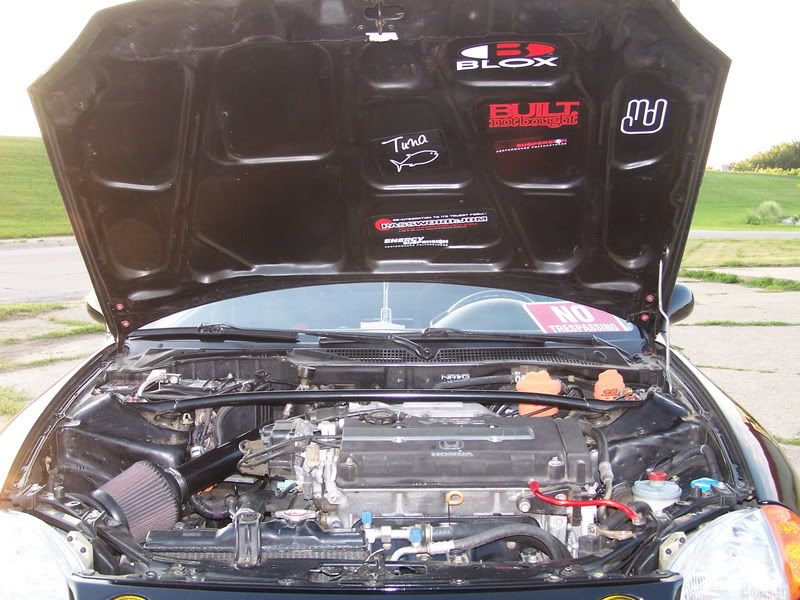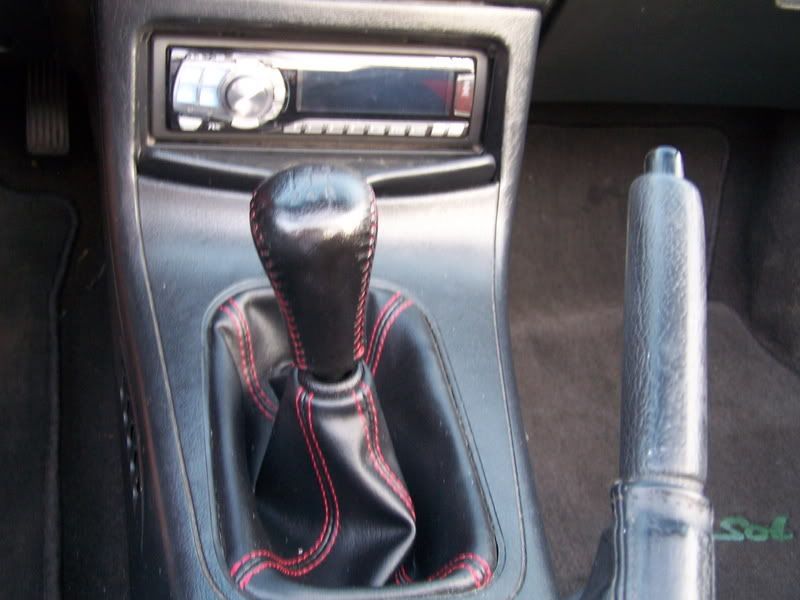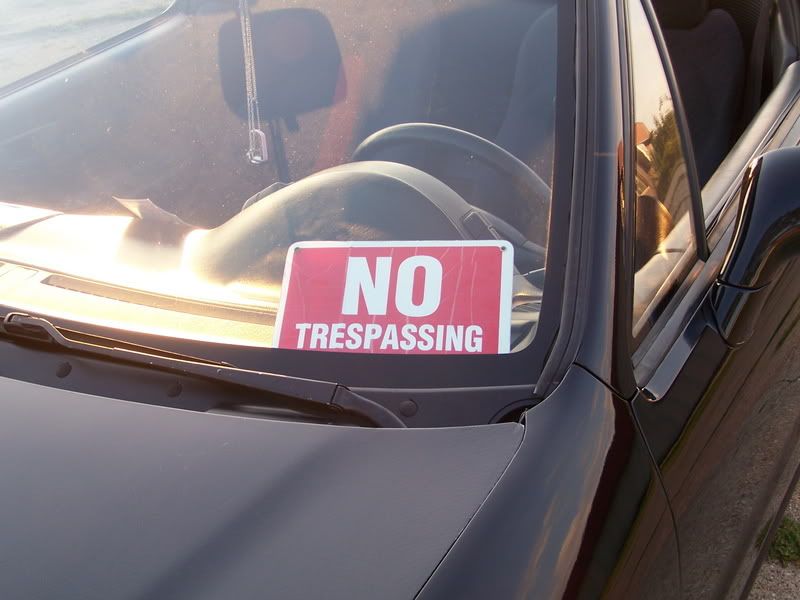 1994 Honda del Sol S.
mod list.
Engine.
SRI.
stock catback minus muffler with custom rear section.
Walbro fuel pump.
Custom coolant overflow tank.
Mugen resevoir covers.
Energy suspension motor mount inserts.
Suspension.
skunk 2 camber kit.
no name lowering springs.
ASR/22mmITR sway bar combo.
blox lcas.
del sol VTEC front sway bar.
Shoes.
16x7 Konig Traffik.
205/40r16 Kumho Ecsta SPT.
Brakes.
stock VTEC calipers.
powerslot rear rotors.
Goodridge stainless lines.
Ceramic pads.
Motul fluid.
Exterior.
Resprayed by previous owners with FBP.
JSP? cf hood.
stock front bumper with grill trimmed out.
shaved bumper reflectors.
shaved trunk/antenna.
Interior.
ITR shift boot.
EP3 shift knob.
Alpine 9835 hu.
MB quart coaxials.
MISC.
I routed the windshield sprayers under my bumper so when I hit them they spray out at people. I've gotten alot of friends with it. Its quite ammusing. I might make a small vid to show you how far they spray.
Thanks for checking it out...comment positive or negative are welcome.
Since those pics were taken i've added tint. New pics will be up soon.