Discussion Starter
·
#1
·
Can I make an HID sticky?
Since there seems to be a ton of questions on this board and the Civic board about HIDs, I thought we needed a HID sticky.
BACKGROUND
- HID or High-Intensity Discharge lighting utilizes 3 components: The ballast, the ignitor, and the bulb. The ballast is typically a square metal box, the ignitor can look like anything from a small metal box to a small plastic cap, and the bulb looks like a bulb. True HID bulbs have a ceramic return wire on the bottom, which clearly makes it distinguishable from a halogen bulb. I won't go into the nitty gritty of how the HID system works. You can Google that one.
There may be confusion when we talk about what an OEM projector is, what housings are, etc. Here are some examples of what we're referring to:
Housings refer to the whole headlamp assembly:
Here are retrofit parts. The Projector (rear), the ballast (left), the ignitor (right), and the D2S bulb (front).
A "retrofitted" Honda Accord housing: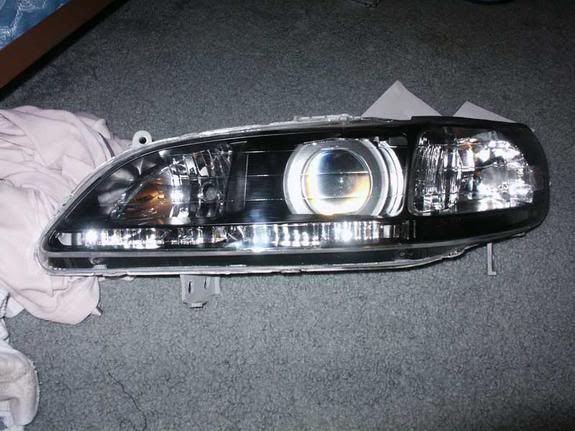 There is really no high or low beam with an HID bulb. They have one brightness level, so to speak. High and low beam is typically achieved with a bi-xenon projector, which I will cover later. For now, just assume most HIDs are low-beam or fog-beam only.
D2S vs. D2R
D2S are for projectors, D2R are for reflector type housings. There are variations of these bulbs out there today that utilize different gasses, but remember that the "R" stands for "reflector" and you'll be good to go.
Why HID is Better
- HID bulbs typically produce more lumens, which ultimately results in higher output. The bulbs are 35 watt bulbs (with some exceptions), so they draw less power. HID bulbs also run cooler than halogen bulbs. They have a longer lifespan than halogen bulbs. The list goes on. No huge drawbacks other than the effort to install and the cost.
Here is a good image I found on the internet that clearly shows how nice the coverage of a good HID setup is.
Bi-Xenon
refers to a projector type which allows for both a high and low beam with a single projector. It functions much like having a single bulb for high and low beam (like many Civics prior to 06). They utilize a solenoid and a special shield which reduces the amount of light it blocks. When the shield is down, you have "low beams", and when it's up you get "high beams" utilizing more of the projector's output. Simple and very effective.
Here's a comparison picture I found of a bi-xenon HID projecor. The first picture is the low-beam, and the second is when the shield is flipped up, giving "high-beam" output.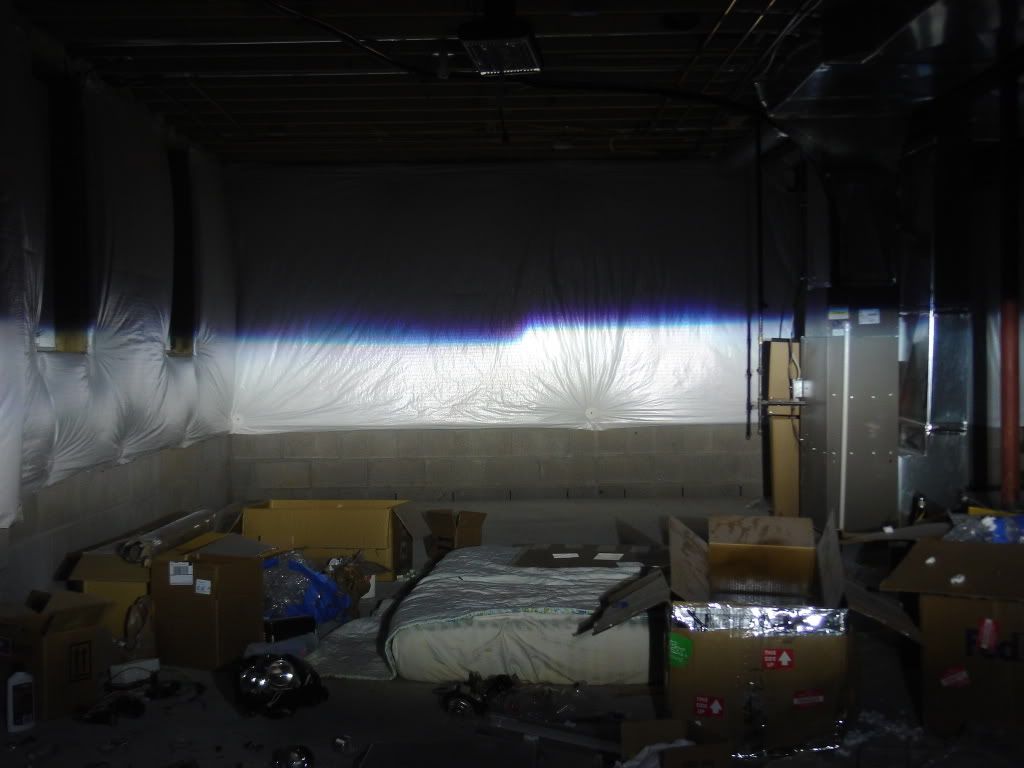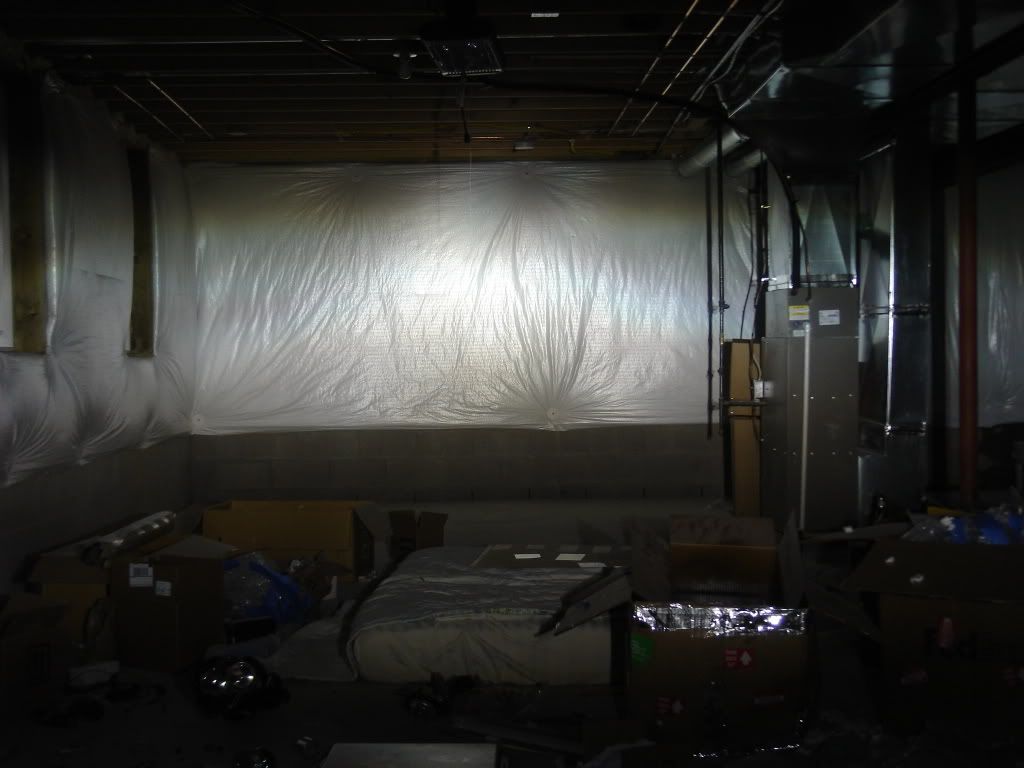 PNP-What is it?
- PNP refers to "plug and play" kits. These are sold all over the place...eBay, this board, etc. Some PNP kits are ok. The purpose of this thread is not to judge which PNP kit is better than another. Here are the facts about PNPs:
PROS

Cost - PNP kits are cheap. $300 or less will get you everything you need for a crude HID set up.
Availability - Tons of vendors, tons of deals
Flexibility - Made to "plug" into your stock OEM housings.

CONS

Output - Unless you have an OEM projector, your OEM housings are not designed to utilize HID optics correctly. You will have glare. You WILL have glare. Do I make myself clear? You will never be as bright as Joe Smith's BMW. You will one day wish you would not have done this.

The exception to that statement is, let's say you have a car that came with HIDs, and for some reason they blew. You could use a PNP kit to replace your OEMs and be just fine. Perfectly acceptable solution.
Color Temperature (Kelvin)
- The color temperature of your bulbs will determine two things: what color the output appears to be, and how many lumens you get. This is not a complex science. A color temperature of 4100-4300K is about as close to actual sunlight as you will get. These have the littlest amount of "blue", but they are by far the brightest in lumens. Anything HIGHER than 4300 is more blue, but less bright. Absolutely no exceptions to this rule. Anyone buying a 6000K bulb is going to have an inferior product right out of the box.
Lesson to learn - PNP kits advertising huge kelvin temperatures are a joke. Buy some flashlights and tape them to your hood. I'd have more respect for you if you did so.
Now I would like to shed a little light specifically to what most people want to know about in here.
The Accord
- The Accord is a double-edged sword in the HID world. The high and low beam are split on most models, which is perfect for an HID set up. The downside (with the exception of newer models) is room inside the housings. Sub 2002 models have narrow headlamps, which really limit your choices.
AVOID bi-xenon projectors. There are certain bi-xenon projectors which will fit in sub 2002 models. I have been told, and seen, many individuals who have installed bi-xenon projectors such as the one from the Infinity FX45 or 35. They fit fine and the output is great, but depending on the model of Accord you have, I cannot vouch for the true benefit you're going to get with the bi-xenon setup.

BUY either TYC projectors or OEM headlamps, and retrofit EITHER with OEM projectors. Cosmetically, the TYC is much easier to retrofit because it has a lot of flatter surfaces on the inside, and the "bezel" (chrome or black trim in the projector spot) is already designed to house a projector. If you use OEM, you will need to buy or make some bezels to complete the look and help avoid light leakage. In my opinion, the OEM high beam is of much higher quality than the TYC high beam on many of the Accord lamps. That's my personal opinion, yours may differ. It's all in preference.

ISSUES - Fitment. In 96-2002 Accords, the windshield washer resevoir neck serves to be a big hassle for allowing room for your HID parts. Many people cut this down a few inches to allow room for adjustment.

Additionally, your projector choices shrink. Many retro'ers use a TSX, S2000, or RX330 AFS projector for highest output potential and fitment. There are smaller projectors out there that are cheaper and easier to install, but the output does not quite rival some of the more popular ones I've listed above.
​
The Civic
- Due to the outrageous range of sizes that Civic headlamps can be in (Think of the difference between a 92 and an 03 SI :eek2 ), there is no one single answer as to which is best for a retrofit.
If you stick with stock headlamps, you SHOULD get a bi-xenon projector so you don't lose your high beams. Most of the civic lamps are big enough that you will have absolutely no problem installing them. I went the other route and got TYCs with a split high/low beam, then installed low beam HIDs in the projector spot and used the TYC halogen highs as my high beam.

Commodore has been one of the brave souls that installed bi-xenons in a 92-95 Civic housing. He even went so far as to do the clear lense on his housings as well, which resulted in a cleaner and sharper cutoff line. He's living proof that when there is a will, there's most certainly a way! He might be a good resource to contact about that specific model of Civic (Also, thanks to Commodore for reminding me of his efforts in the HID world!).

The downside to retrofitting OEM headlamps (with the exception of 06+) is that single projectors in OEM Civic housings look bug eyed, and creating a bezel that serves as both a cosmetic improvement and functional assistant is quite the challenge. Many have done it (quite successfully in fact), but if you're like me and don't want to deal with that part, retrofit aftermarket projectors and call it a day. One way to get around the buggy appearance is to paint your housings black, and try to avoid a lot of chrome.

From my experience, there is plenty of room inside the Civic engine bay to accommodate the HID components without much trouble. I have found that if you have a short ram intake or cold air intake, and have removed the stock air box from your engine bay, you have a fantastic area for mounting at least half of your components, plus easy access to the aiming bolts on your headlights.
​
But I want more BLUE!!
- The blue light with HIDs is actually a trick. If you've bought a 10,000K PNP kit to get that blue look, put on a jester hat and do a dance for us!
The TRUTH is that it's all in the optics. When the bulb's light get's bent over the shield, it produces a thin band of colorful light. When that light goes through the lens, it gets amplified and spread out. When you're driving down the road and you see that blue flicker of light, your eyeballs are just getting a little taste of that blue band. The light on the ground is pure white, lots of lumens, and the blue flicker is just the icing on the cake. A good OEM projector setup looks awesome. Want an extreme example? This guy on HIDPlanet did some major work to get this right, but he is using the GOOD 4300K bulbs with OEM projectors.
Jealous? Me too. Mine didn't turn out this well, and I put a lot of work into making mine just right. Goes to show that no two projectors are alike.
Here's yet another example. Take note of the PURE WHITE LIGHT below the cutoff line. (These projectors were not installed in the headlamp housings yet)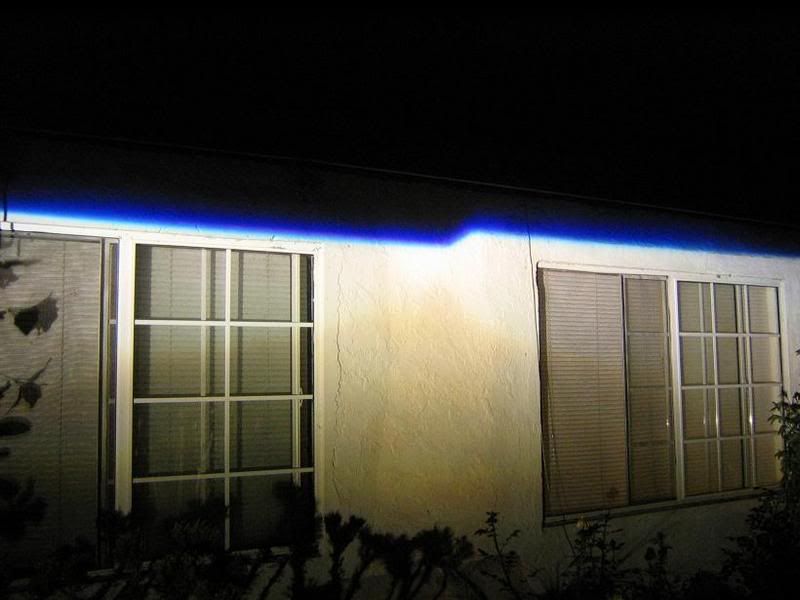 Here are a sample of other retrofit projects I've come across. The ones below are not mine, so I do not have much to offer as far as informtion on these retrofits specifically.
03+ Accord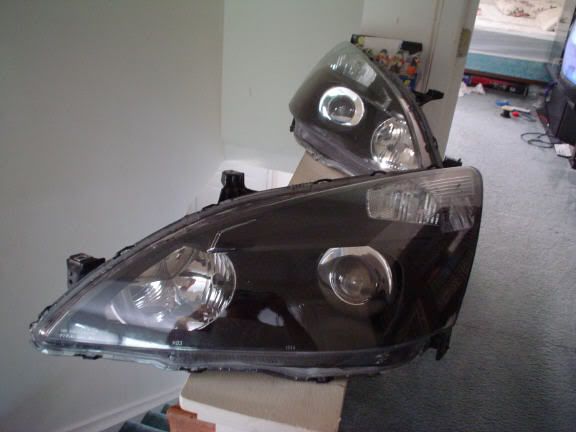 02-04? RSX
96-98 Civic
99-02 Civic
01-03 Civic (Aftermarket projectors, OEM Valeo projector retrofit) Fantastic quality!